Ryoto Akagi (also spelled "Ryouto Akagi") is in the same class as Yukina at Tateyama International High School. His father is head of maintenance at the United Nations Kurobe Laboratory.
Official description
He's in the same class as Yukina. His father is head of maintenance at the UN Kurobe Laboratory.[1]
Appearance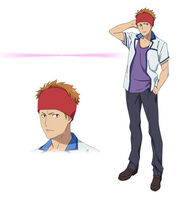 As seen in the picture, Ryoto wears the regular school uniform with a red bandana on his forehead. He has orange like hair and dark brown eyes.
Personality
Ryoto acts quite tsundere, but is actually quite tough. He acts very high on himself, but also knows when enough is enough so he doesn't seem like too much of an ass. He often tries to show off to Yukina because of his crush on her. He is also a gentleman in a few ways though. He shows this in episode 26, asking Kennosuke if leaving is really what he thinks Yukina wants. Like Kennosuke, he wants Yukina to be happy.
Abilities
Plot
Ryoto is sort of a minor character and doesn't play a lot of part other than to make the anime more complex. Ryoto goes to Tateyama International Senior High School. He is in the same class as Yukina and Kennosuke and appears to have a crush on Yukina. He finds Kennosuke as his rival at first, but soon realises that if Kennosuke makes Yukina happy, then he is no longer his rival.
Plot
Relationships
Gallery
Quotes
Trivia
References
External links

 Ryoto Akagi
Community content is available under
CC-BY-SA
unless otherwise noted.